Last week was The Classical Atelier Drawing which ran from Monday to Friday. Thought it might of been drawing a cast from life but it was doing a Bargue drawing from start to finish.
They talked about what I wold be doing which was the bargue drawing and discussed why they do it etc they work sight sized for this so again they detailed why they use that approach and then showed me how they do these drawings.
They start on basic printer paper which is taped down to a board next to the first "basic" plate which they then divide horizontally and vertically which are the x/y axis (which is replicated on the printer paper).  To actually do the drawing they pick a point they are trying to plot and on the plate they find the width and the height on the x/y axis using a stick of sorts (barberque skewer/knitting kneadle) and youyr finger nail to measure the distance which you then transfer to the printer paper and plot with an x so it's basically a bigger version of connect the dots (hopefully that makes some sense).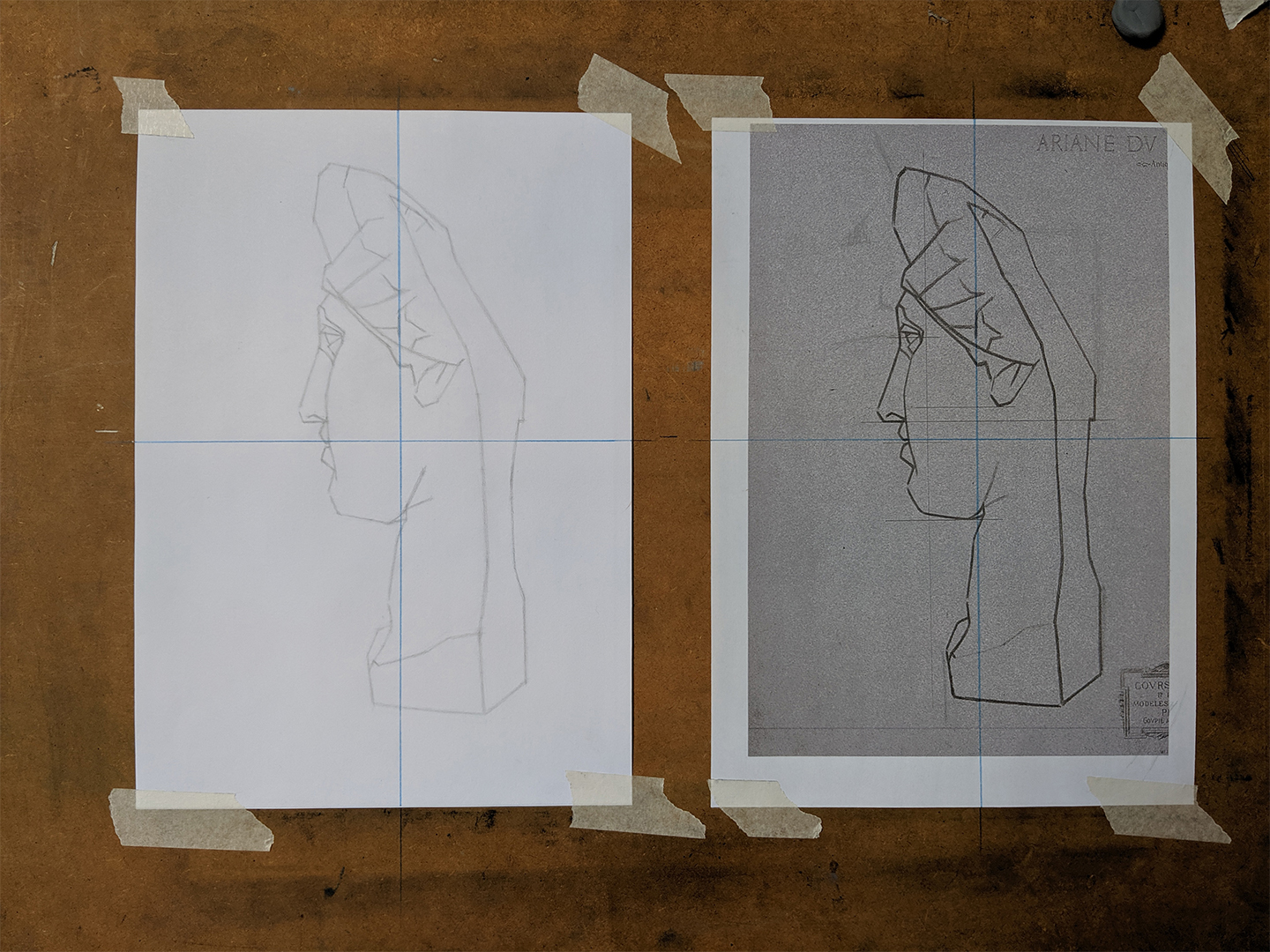 Once you have the plate copied you would check it for mistakes such as flipping the board upside down, doing an "animation test", looking at negative shapes etc basically just self correcting judging by your eye.
Once your drawing was an exact copy of the plate you'd then switch out the "basic" plate for the "finished" plate and redo the first step (due to time constraints I focused on the face) and check for any mistakes using the methods just listed. You would also map out the shadow shapes (ignoring halftone) and fill in using a middle value.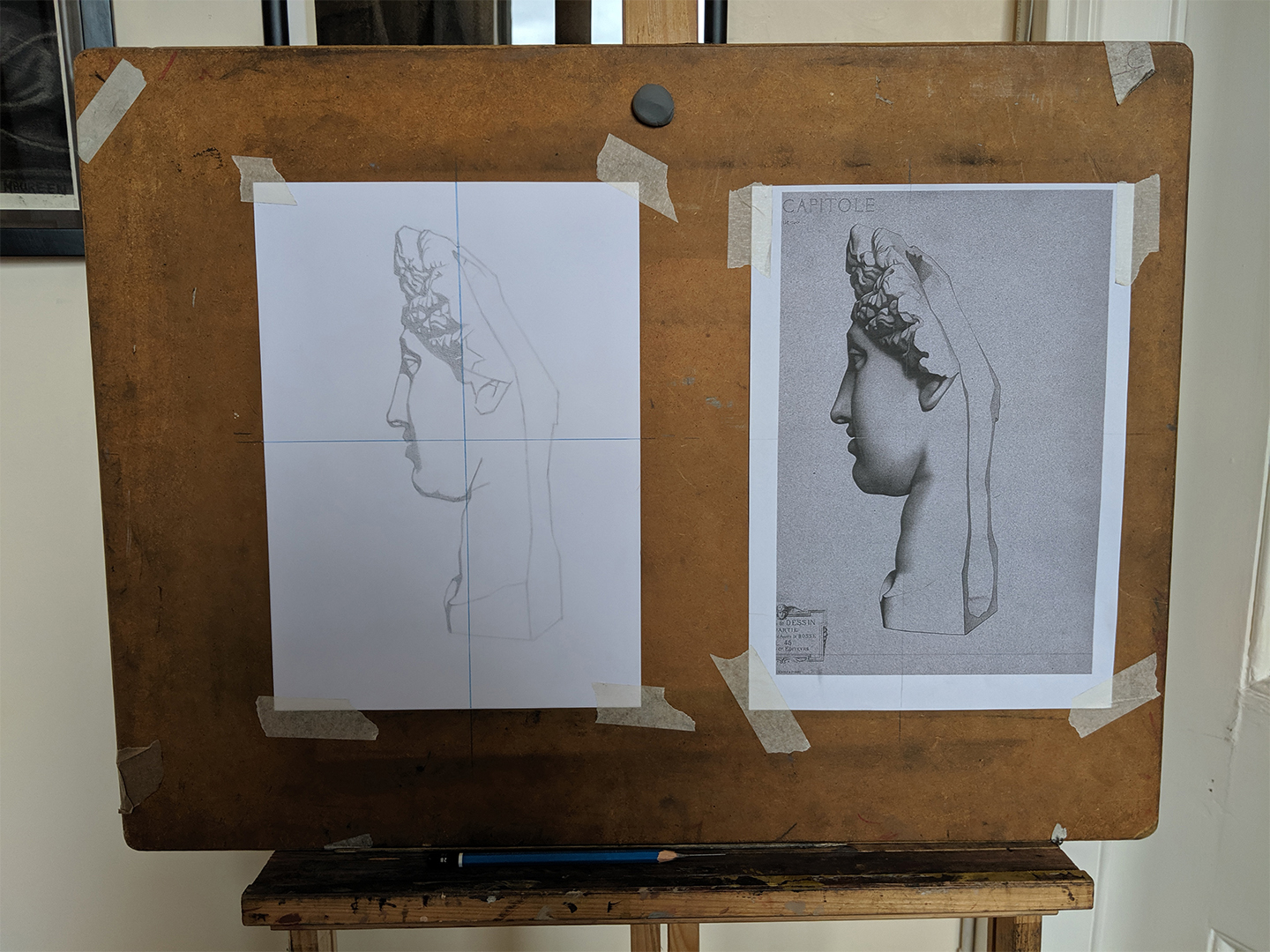 Next you would transfer the drawing to nicer paper (in this case stonehenge paper), fill in the shadow shapes with a middle value again and start on the rendering.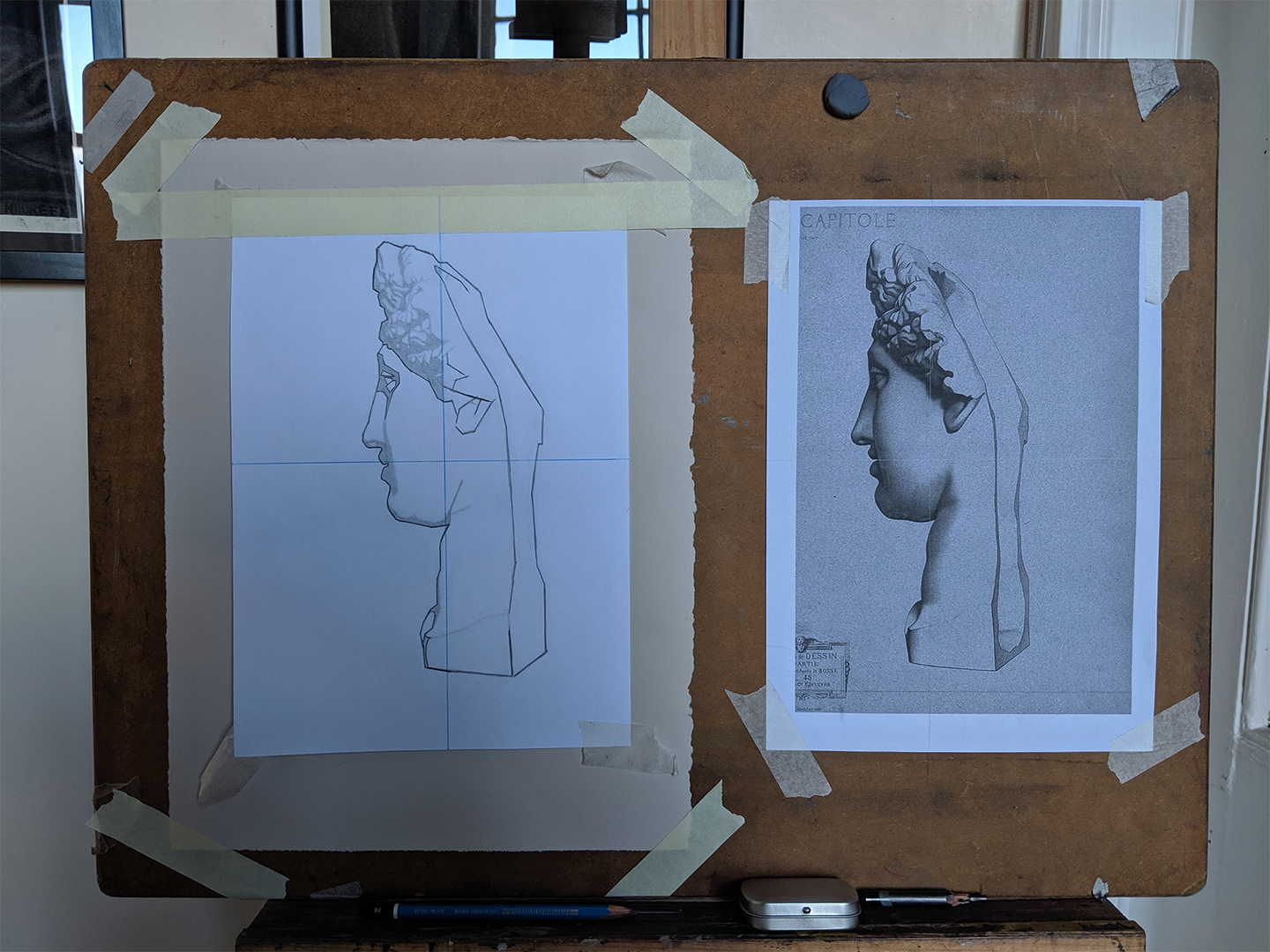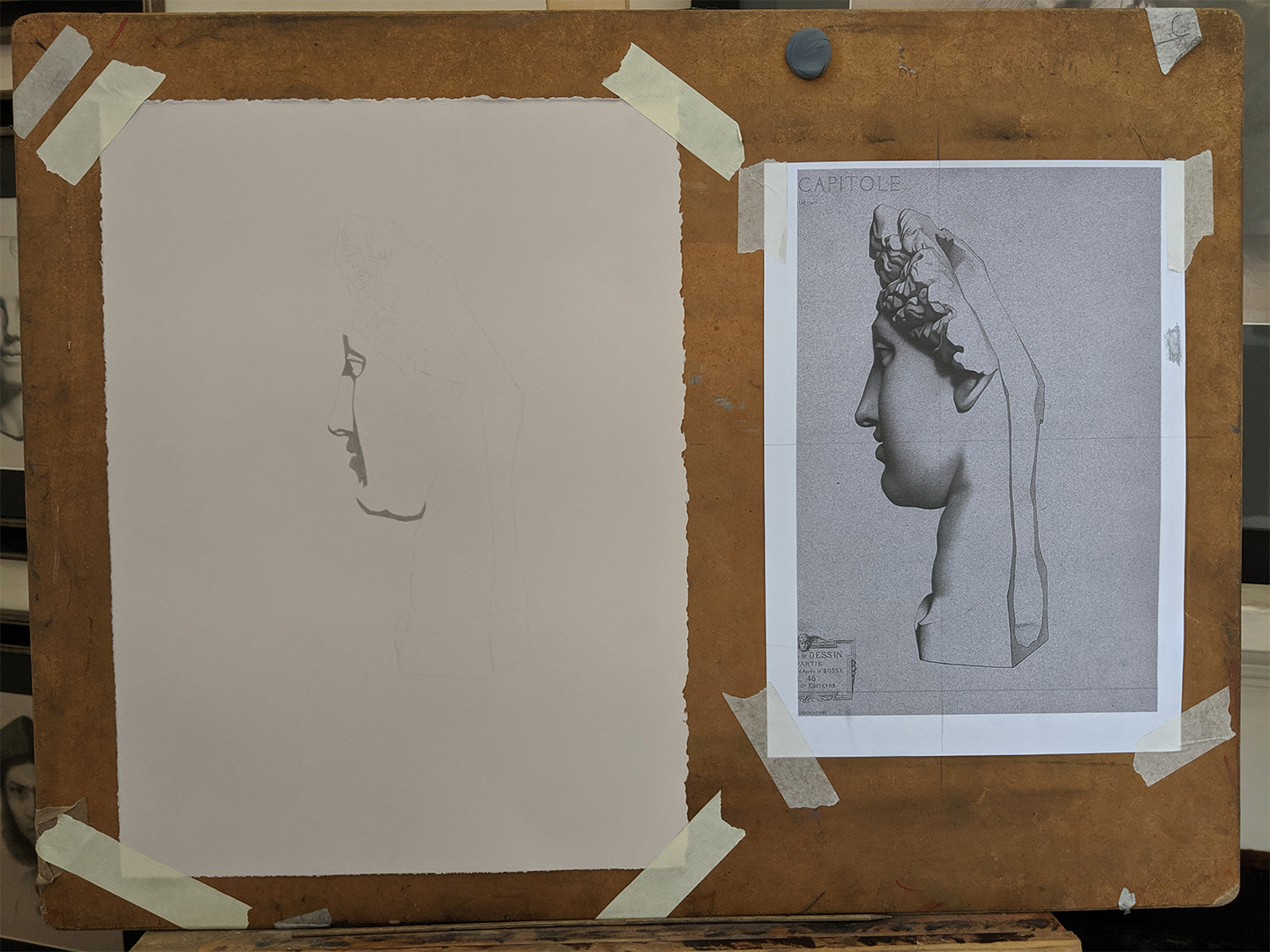 All of this was done using 3 pencils:
.2H
.HB
.2B
2B was used for the majority of the drawing and for rendering your shadows (using a HB for cleaning up) and a HB was used for rendering your halaftones/lights (using a 2H for cleaning up). Pencils are sharpened to a needle point and you would hold the pencil at the very bottom and use your wrist for the majority of your strokes.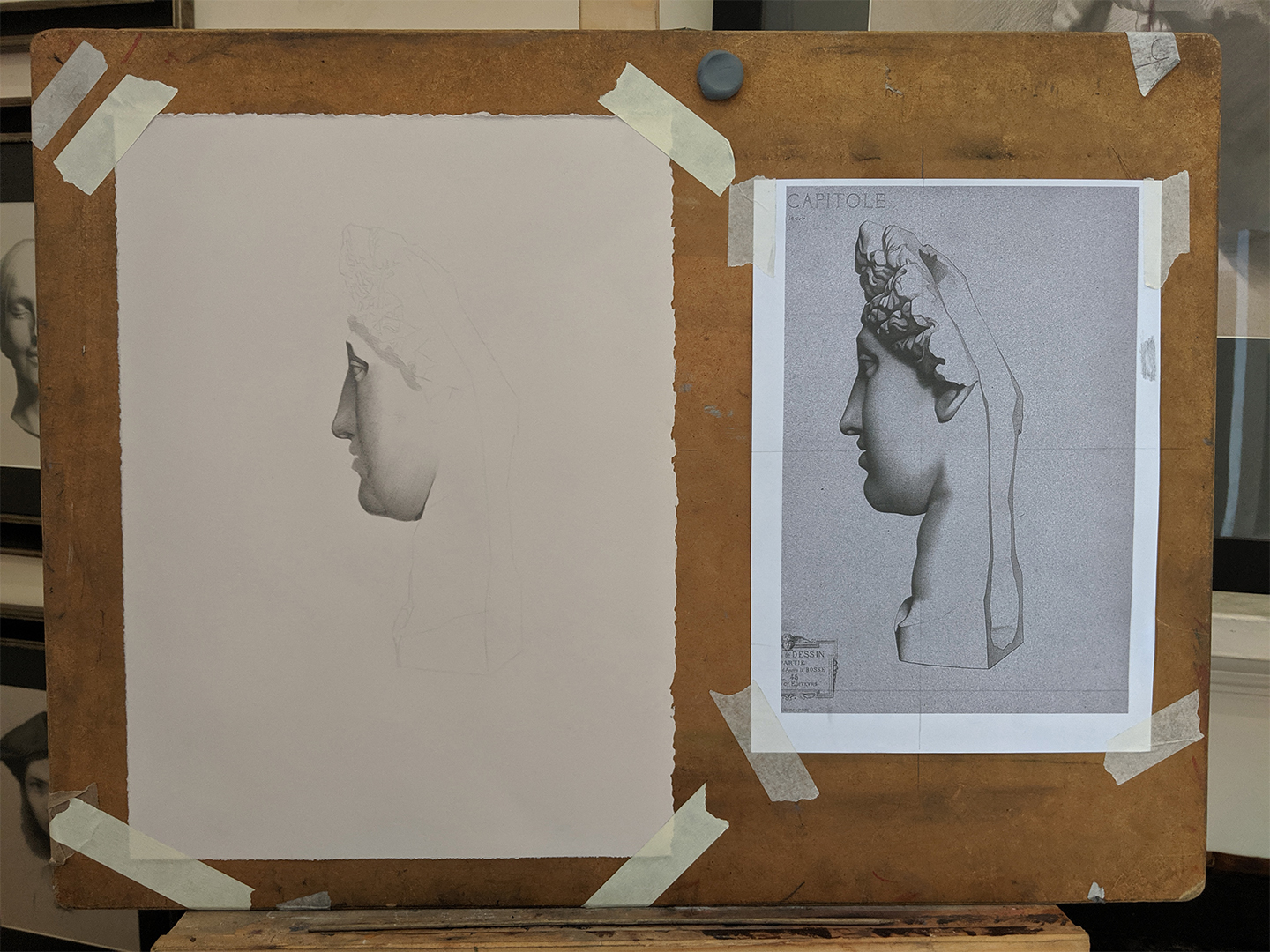 Can go into more detail if needed but tried to keep it as short as possible (for me atleast).
Overall I would say it was worth it. It was nice being able to spend wholedays working on art and just being in a school enviroment. The instructors were really friendly, they would explain things I had trouble with and were more than happy for me to bug them with questions about art in general or just have a talk about art, even said to message them if I had any questions in the future.
For the courses themselves I'd say the 2 day colour mixing wasn't really worth it. They do a 7 day old master painting course and what I did seemed to be day 1 of that course so I'd say just do that course instead as they go over painting techniques and materials etc. I'd say the Classical drawing was worth it as it showed me the proper way of working through the bargue plates although they did say that students normally spend about 6-8 months working on 3 bargue drawings which seems like overkill to me.
---