Forgot to post some work I did before my holidays.
Life Class
Final week of the 3 week pose I gave painting another shot. Wanted to try the Frederix red label canvas but my order was cancelled due to no stock so I had to go back to using some hard board that I primed with gesso.
Before the class started I re-read the inital painting chapters in Speed's book and made some notes to use as a guide for how to tackle this painting. I premixed my values before hand into 4 puddles ranging from my lightest value (white) to darkest (burnt umber) and mixed inbetween values with my brush when needed from those 4 puddles. I also used far less turps than usual.
I felt like my approach this time was far better than my previous attempts but still got  along way to go with my painting skillls. I'm gonna spend the next week or 2 doing some painting studies, mainly from casts to get some practice in.
I transfered my block-in from week 1 to my masonite board and spent 2.5 hours on the painting.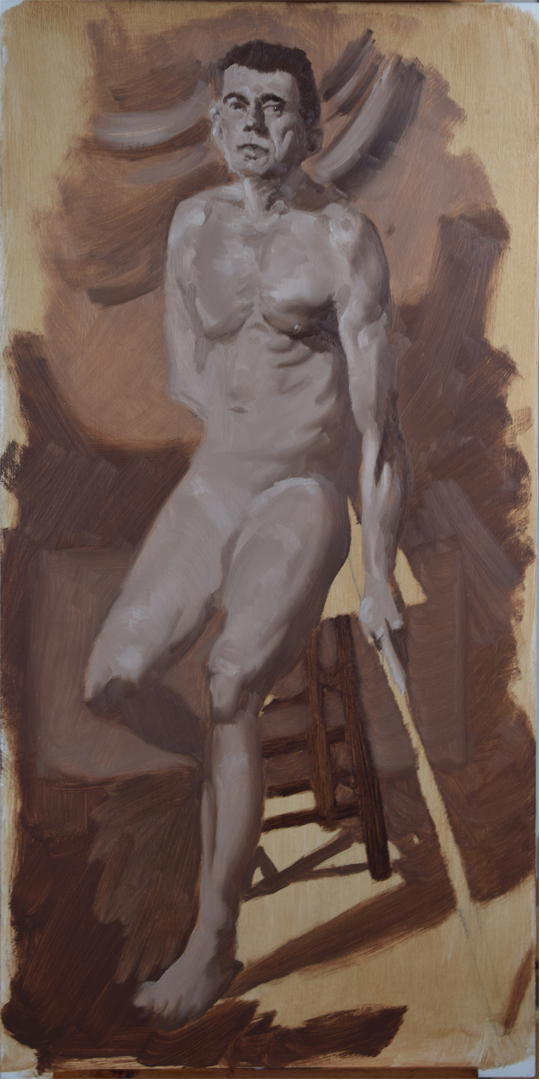 Portrait Class
A protrait from my last class before the christmas break.  My block-in for this felt stronger compared to previous attempts from life.
Still need to do the corrections for my live streaming classes for the past 2 weeks which I'll get to next week and post then.
I was wondering if anyone here has any experience with any of the CGMA classes (particulary anatomy) or Scott Eaton's Online Anatomy Class (Full Subscription)? I want to take an anatomy class and get some much needed feedback but mainly use treat it as a bootcamp to get my anatomy skills up. Atm I'm leaning more towards Scott's class but i'm unsure how good it is and considering it is alot of money I'd like to be sure it's worth it.
---