Let's face it...
We all have to prioritize our time to manage squeezing in as many hours for studies, commissions, and personal work as possible. Our respective web browsers make easy enough to auto-complete "C-R-I-" to bring us to Dave's stream, or "D-A-N-" to get us to the danger room. But what a pain!
"I WANT SOMETHING THAT WILL GET ME THERE NOW!"
Well I hear you, and I've come up with the answer. Freakin' Icons! These Icons!
Daniels Danger Room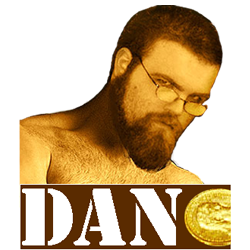 Fu*kin Art with Mr. Delicious
Setting each of these images to a Livestream shortcut is pretty easy and only takes about three minutes, Give or take. First Save each image as a .png file, then convert both of them into an icon. There's a handy website called
http://www.convertico.com/
that makes it pretty simple.
Download the newly converted icon files, and then go each respective Livestream. Right next to the address bar, click and drag the little red Livestream icon down to the desktop. To add the icon files you've created just right click - Web Document - and then add the correct icon.
Now you're a click away from hanging with the Dave, Dan, and all the rest of the Daggers.
NOTE: The only issue (which is a relatively small one) is that this, like any other shortcut creates that little white and blue arrow box, obscuring the full coolness of your desktop set up. Now I'm not too sure about Mac's but I have windows 7 Home Premium 64x and there's a free program called Ultimate Windows Tweaker. If you don't have it, get it, it's a nice little program that helps to turn off and on some of the otherwise annoying crap that so often plagues Windows. All you have to do is find the check box that disables shortcut arrows and hit "apply," log out and back in and you're ready to go.
That Program is
here
Let me know if these come in handy!
---