@JyonnyNovice:  Thanks for stopping by again man!  Yeah what you say about the camera lens stuff is starting to make sense to me now - close up shots have different perspective to far away shots.  Gestures, yeah definitely - I was just thinking the other day that I'd neglected my gestures and needed to get back to them - thanks for the nudge :).
@OtherMuzz:  Yep - you only get out what you put in - so I figured I might as well put my own effort into understanding this stuff.
OK I've done another experiment with perspectival distortion tonight in Blender.
I modeled a quick mannequin and then took two camera shots of him.  One at 2m and another a 6m.  Then I analysed the amount of perspectival distortion that was happening.  The 6m shot was definitely less distorted and looked a bit better to me.
My reading on this matter suggests that most portrait photographers use distances of between 2m and 6m.  So I think maybe if I get used to drawing figures at 4m away the perspectival distortion might look most natural.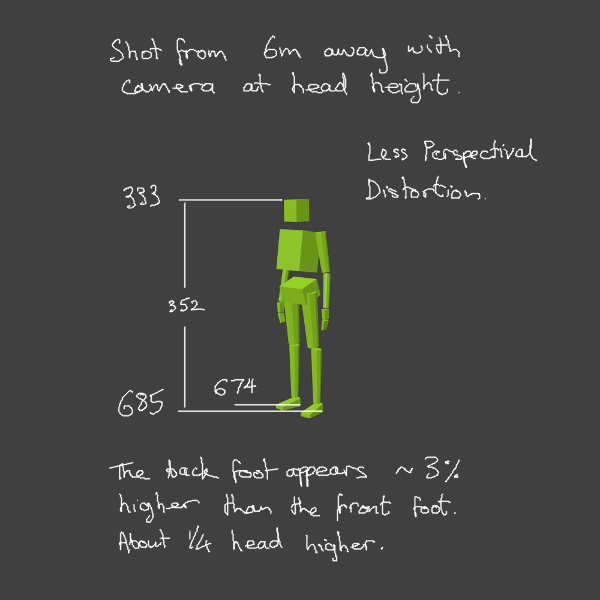 ---
"Today, give a stranger one of your smiles. It might be the only sunshine he sees all day."
 -- H. Jackson Brown Jr.
CD Sketchbook