Here's the idea, and it's a bit last minute since this schedule technically starts today but I thought it'd be cool if anyone wanted to join my friend and me. And feel free to join at any time even if you've missed a week or two.
I'm really getting to the point where I need to get a job sooner than later and decided to make a study schedule that squeezes in all the subjects I need for a concept art portfolio fairly quickly. It'll be 3 months, more or less, and provide time to study each major subject and produce a concept for it. I also hope this will aid me in being faster, looser, and breaking out of some bad habits I have with art. There's also a lot of subject matter I've realized I've avoided and never really drawn, so this is also aimed at improving my visual library. There are a lot of things I need to work on and I feel like this schedule should help address them. My friend Carlos will be joining me in this and if this schedule looks like it could help any of you I hope you will join us as well.
This schedule currently runs up until May 18th and I hope to revise it soon once I figure out exactly what is going on with my summer. If enough people take interest in this group me and Carlos may start doing a weekly livestream for it to talk about our progress and how everything is going. Feel free to post your work and your progress in this thread, and discuss any issues you're having with the given subjects. We'll be spending 1-2 weeks on each subject, which should hopefully allow for a good amount of studies while producing a painted concept. We'll see how it goes.
I should mention a lot of the lessons and information will be coming from Scott Robertson's book "How to Draw" which I would recommend to anyone since it has a lot of useful information for these topics. Specifically for the perspective aspects of it. The Skillful Huntsman is also a pretty good reference book for the type of work we'll be doing.
Here is the schedule, I hope you get the basic idea from it: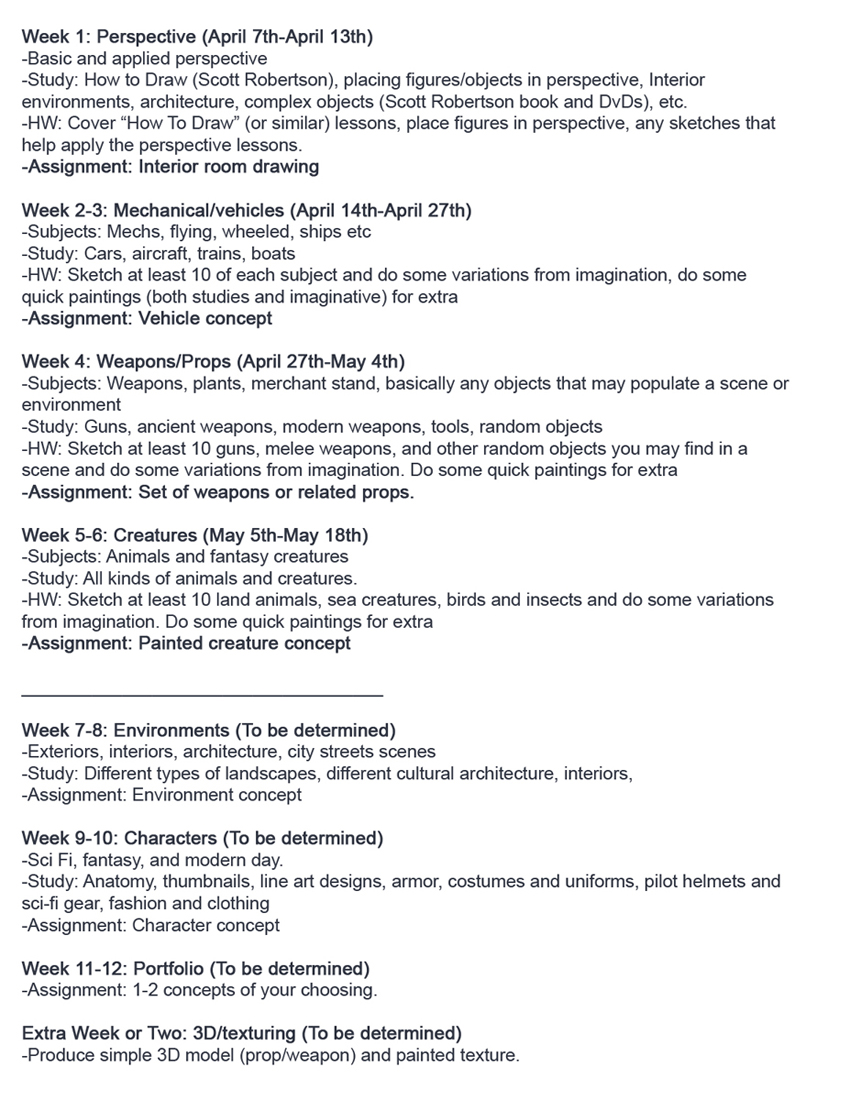 ---
Week 1: Perspective
This week is all about learning and getting better at using perspective. To be able to apply the lessons you'll learn to imaginative work. I'll be working through Scott Robertson's book I mentioned in the first post but information on perspective can be found online for free too. I know Andrew Loomis has free books for download that cover perspective as well.
http://www.alexhays.com/loomis/
Feel free to post any studies and sketches you do, and try to do both studies from reference and sketches from your imagination. Perspective is a really important skill that applies to all the other subjects so I thought it was a good one to start on. You can see how much Feng Zhu's student's work is heavily focused on perspective if you check out his blog, for example.
I figured a good "assignment" for this week could be an interior scene (examples in the link below) but anything that applies what you learned works fine.
http://fengzhudesign.blogspot.com/2014/0...erm-2.html
---