CGMythology's Sketchbook
piece turned out rly well. good job
Hi George,

Congrats on another fine piece!! This turned out really great!

Love the lighting, and all details (like the designs on her gold bands etc, the columns and marble-work).

Excellent work.

Looking forward to your next master-piece!
---
darktiste
:  Appreciate it!
serdar
: Thank you kindly!
handsomekorean
:  Thanks, glad to hear it!
Jephyr
:  Thank you, and for the awesome feedback as well!  Glad you enjoy the final image and I appreciate your support as always!
...........
Time for a new illustration! I wanted to try to tackle a bit more of a dynamic perspective with this one, so this is as much as the environment as it is for the figures, which were referenced from Grafit Studio.  I'm pretty satisfied with the line art but any input before  I do some color tests would definitely be appreciated!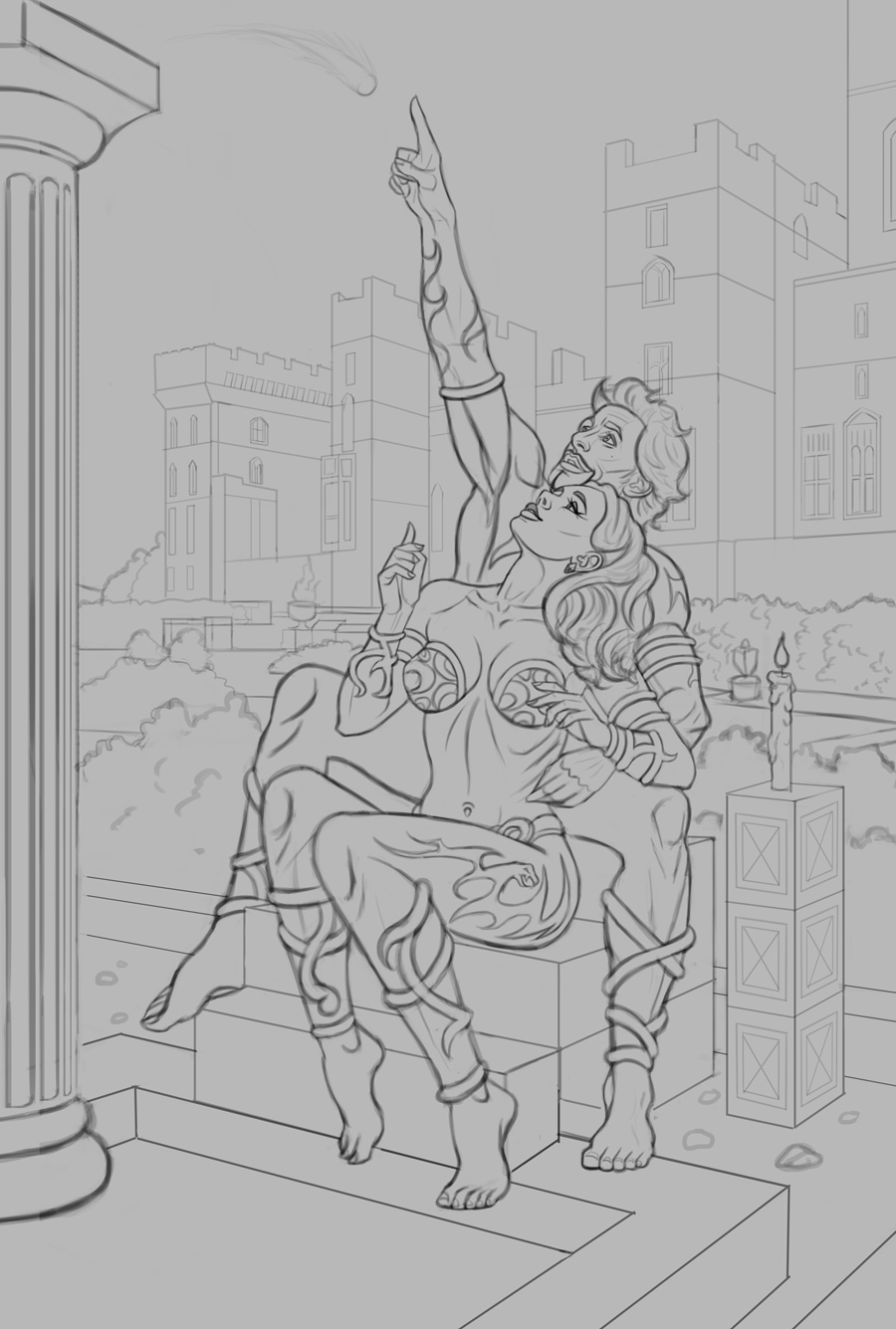 ---
Started a new one already?

I have one suggestion. They seem to be looking at a comet. The comet looks like it is on the tip of the man's finger rather than high up in the sky. This might be because this is only line art and you didn't add atmospheric perspective yet though.

I loved the expressions by the way.
Hmm yeah with what serdar said, i do kind of think with the placement of the comet, it seems like something they would only be able to see if they looked behind them. They are looking forward, so the comet they are looking at would be off the canvas. However, something you could do, and maybe this is what was intended anyway, is have a few smaller comets raining down behind them, so that it tells the viewer that they are looking at a meteor shower, even though you can't see the particular part of the sky he is pointing to.

I think it's something to keep in mind. I have noticed that in a couple of your paintings at least you sometimes have elements like light sources depicted as if they occupy the 2D space around the subject, from above or the side. But in the 3D space they may actually be far behind or in front. And in some cases that can be a matter of artistic liberty, like in this piece perhaps it's essential that we see the shooting star, and the subject facing front. But really working with that 3rd axis in space can make a painting feel much more immersive.
---
First off, this latest drawing is great and my advice is only intended to show how to push the dynamics of it if you wanted to. As is, I think it's a solid illustration.
By dropping the horizon you create more dynamism in a few ways. It causes the background elements to lay on a sharper diagonal angle. It also causes more overlapping of the figures and foreshortening that forces more depth into the image. Dropping the horizon also gives the sky more room on the canvas and as they're looking and pointing upwards, it gives more focus to the story. The buildings are of third importance; first is the characters, second is what they're aiming at and third the scenery in the background doesn't need to take up much real estate in this case.
It also adds a bit more drama and intimacy by pushing the characters closer into to the foreground.
[[edit:
I totally missed that you said this is as much about the environment as the characters. So this crit isn't that on point... But you could go more vertical than I did with the buildings at this lower vantage point. Anyways, just some options to think about with composition. Like I said it looks solid as is.
]]
---
Personally i am not a fan of how busy the ground element are very blocky and alot of busyness and why always the verticality of the piece(you should try horizontal sometime)

On an other note the stair bloc shape they sit on two different level so it bottom side shouldn't be alligning since they don't occupy the same level in the x y z space since one block sit on side on the edge of what look like a very shallow bassin and the other block is resting in what i assume is the outside edge of the bassin around it which is lower.That unless they have different size in that case it would make sense.But i assume since it seem to be block base they would be similar in size.

To add to this complex situation there a center block missing so i don't understand how it can support the full weight of both without tipping over.Sadly due to the verticality you don't have the opportunity to make it into a full stair it would considerably change the scene.

I don't like how the pillar intersect the bassin.But i see why it in an odd place and why you tried to include it so the top of the pillar can create flow toward the comet but i don't think it necessary when the character point at the object and specially if you get rid of much of what in the top section of the painting like suggestesd in the POV.The contrast in detail of the lower section(busy) of the pov with the emptiness of the top portion direct the eye and instead of element creating the flow it the contrast that move the eye.

Personally you receive amazing feed back that should fix those mention problem so i think it just a question of do you have the patience do redo the line art i personally think storytelling as to be very strong and this POV seem to give you just that.I certainly understand that changing direction and taking someone else direction seem like loosing control over your own process so i am perfectly fine with you trying to fix rather than picking where someone left.But i would say if there major issue it never wrong to go back and keep doing thumbnail specially if there isn't deadline.The trap in those case is learning to finish and not overworking the piece.

I am just unsure about how much of the women face we will be able to capture if you go the POV route and since face are important to tell story it the only concern i can raise if you want to try that route.
---
My Sketchbook
The journey of an artist truly begin when he can learn from everyone error.
Teamwork make your dream work.
Asking help is the key to growth.
Hi George,
First off — I LOVE this composition.  The figures are very well done, and I don't see any issues with proportion or poses.  Although I do kinda like Lydo's take on it.  But I think yours still works fine as well.
You're hitting pay-dirt when it comes to getting suggestions — but I wanted to add a couple of my own.
Your base has an MC Escher feel to it where her feet are (I don't mean offense by that and hope you get the 'reference' joke).  Are her feet resting on that area or dangling somehow? 
Also his foot is balanced on just the tip — so I think extending the base out a bit where it's resting would solve that.
I did this quick "paint-over" of those areas to try and show you what I mean.
Anyway — this is a very ambitious piece.  As someone said above (and I can't find it now because I'm tired) their expressions are great (you always do those so well.)
I'm sure you're going to make this one another fantastic piece.
Can't wait to see how you progress.
---
serdar
:  Indeed, although I started on this particular sketch weeks ago (I have a bunch of sketches I've already drawn that I'm planning to paint!).  I reworked the comet into meteor showers as well for a more natural look.
JoesephCow
:  Great suggestion with the meteor showers, just incorporated it and it works much better!  Excellent advice in regards to 3D space as well, I'll always try to keep that in mind!
Lydo
:  Excellent sketch!  It's a bit too late to rework the sketch significantly but I do appreciate the tips and advice, thank you kindly!
darktiste
:  I'll try more horizontal compositions in the future, didn't even realize I was gearing towards vertical ones.  I reworked the meteors in the back to give the storytelling a more natural feel, hopefully this is enough for a more compelling image.
Jephyr
:  Thank you!  Great point regarding the floor, and great fix as well!  Just incorporated it!
........................
I revised the sketch based on the input I received and decided to do some color tests.  I think going to go with 'A' as I think the colors works best there, and I haven't used that sort of color palette before so I'll likely go with that... Any suggestions on what colors work best would be appreciated, however as I'm curious to hear others thoughts in that regard!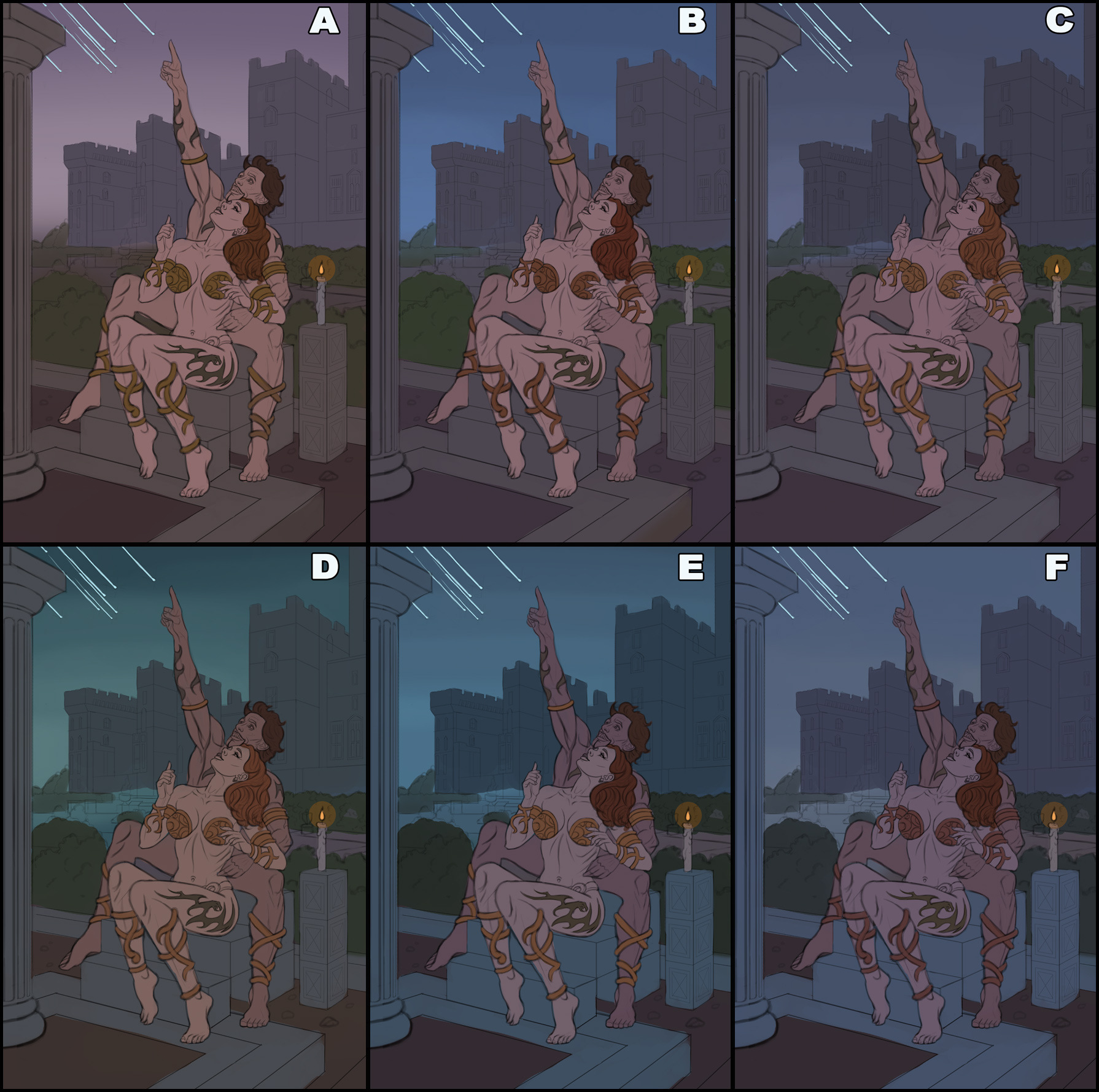 ---
Hi George,
Excellent job on the changes.  I also like 'A' best too.
I have another suggestion or two and did another paint-over:
First, since you have a lot of foreground you could crop your image at the bottom and add some more room for the meteor shower at the top (unless you were planning to add detail to that lower area of course).
My paint-over is rushed — but should give you the idea — and you could play around with proportions.
Also I was looking at his left foot and seeing it twisted inward in an awkward way.  I tried to move my foot like that — with my knees wide open like his — and found it uncomfortable and really couldn't do it.
Anyway, I found a foot that approximated turning it to something more natural — thanks inspiration from Lydo's sketch and a foot study by
irysching
.
https://www.deviantart.com/irysching/art...-357038124
Hope these ideas help but either way, this is gonna be another fine piece, George!
---
I agree with A being the nicest pallete.

One thing that looks out of place in the composition is the Roman style column in the foreground. It doesn't particularly match the buildings in the background and the scale/position of it looks forced into the frame. Notice everything you've drawn building wise is cubes and the column is the one off cylinder. Repetition of forms makes them look like they belong. Unless there's a specific reason to have only one column.

Quick paint over:
---
Jephyr
:  Thanks!  Excellent input as well, and the paint-over was extremely helpful.  Just implemented all your input!
Lydo
:  Great point regarding the column, made the change and it looks much better now, thanks!
...............
I resumed work on the image and it's come quite some ways.  Pretty happy with how it's shaping up, although I want to push the image as far as it can go in terms of refinement and detail.  Below is the current progress: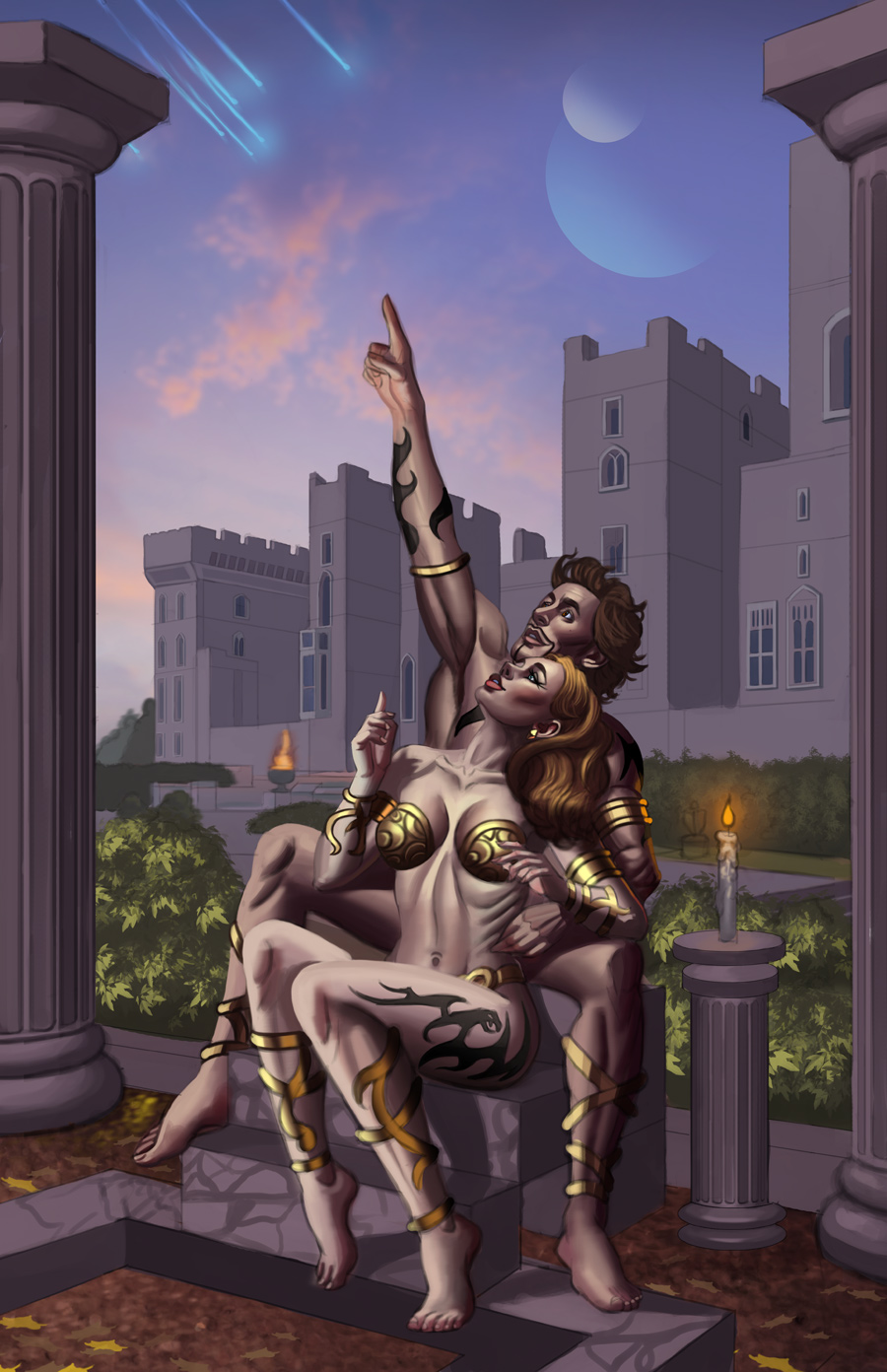 ---
I think you could adjust the color to take in account the color of the scene.The skin look very unatural and the metal is to bright .

I think it just to bright to make sense which make it look heavely staged.To me this is your most challenging piece because even those you recieve great feedback i think you once again commited to early to something that wasn't ready .

If you would have made this darker this would have reduce the readablity of what is behind which i think could benefit you in term of time spend on this piece since you would not have to work with those building look like cardboard cut out.

On that subject actually i think you should add some texture to those surface after all i doubt they have concrete but i guess you left it for the end to choose the amount and the scale of the masonry.For the vegetation it just look like stamp right now it leaking the depth because there isn't a change in value from the leaf on the outside to the inside of the bush.

Did a quick paint over just to show how much can be change even without much time investment just by playing with selection and brightness and contrast adjustment layer... for example here i ajusted the hue of the image to be more blue.You can also probably realize i kill the brightness and adjusted a bit of the contrast.

One thing is sure is remember that you should think about how to use value andcontrast to create visual hierarchy.By that i mean that even if you pick let say one object over the other don't just make it one value each object should have is one visual hierarchy for example the guy as light in is face he as a shadow side with a little bit of light to to give him more volume but there still a light and a dark side.For the girl it different the visual hierarchy is more establish using value in term of a scale from top to bottom the leg are contrasted but the chest is very much facing the light.
---
My Sketchbook
The journey of an artist truly begin when he can learn from everyone error.
Teamwork make your dream work.
Asking help is the key to growth.
I usually start drawing the body(proportions) and then everything else. uff especially with buildings and all that human-made sfuff   

---
'The best way to have a good ideas is to have a lot of ideas ' Linus Paulingth
Hi George,
That piece is coming along!  Glad any suggestion I make helps.  I do think you did a great job with changing the proportion and columns etc.  I know that musta been a lot of work.
I really like the wispy colorful sky as well.  Very nice.
The Escher-ish base made a return during your renovations though.  
Do you mean for that to be a sunken in area or do her feet rest there.   That perception has a LOT to do with how you handle the corner on the left and the lighting on it.  
Also, you always do well at refining your final images - but I noticed some of your anatomy is a little off in some places (like the elbow area of his extended arm).
Anyway - I'm confident you'll polish this one up well as you always do.
Looking forward to seeing your progress!
---
Users browsing this thread: 6 Guest(s)