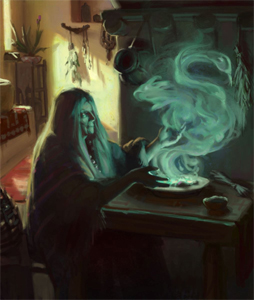 This week's theme and brief by previous winner, JosephCow
»"Biblically Accurate" Creature«
"'I saw a wheel on the ground beside each creature with its four faces. The workmanship of the wheels looked like the gleam of beryl, and all four had the same likeness. Their workmanship looked like a wheel within a wheel. As they moved, they went in any of the four directions, without pivoting as they moved. Their rims were high and awesome, and all four rims were full of eyes all around.'

Angels are usually depicted as beautiful people with wings. But the Bible also describes wheels with eyes, chimeras with three heads and many wings and other sights more terrifying than pretty. "biblically accurate" in pop culture usually means strange and terrible with lots of eyes. Interpret the source material as you wish and design an awesome boss/angel/creature that matches the aesthetic."
The best of the COWs will be picked by an anonymous poll in the Finals thread and the winner is given the opportunity to pick the theme of the next COW's design, as well as becoming the title banner for that week! So go hard, design something interesting and unique!
Guidelines:
No photograph paint overs, must be 100% original work. (See next rule for exception)

3D is permitted and renders MAY be used as whole or in part of a painting, as long as

YOU

created the work. Pre-made and/or purchased online assets are forbidden.

AI may be used in the ideation process, but the final image must be 100% hand-drawn.

Studies are recommended, but not required.

There is no restriction on image formats (horizontal, vertical, square).


Environment backgrounds are optional.




Keep in mind you are not required to stick to what is in the passage. It is more of a guide in terms of mood.




Rules:
You must post at least one WIP in the WIP thread to be accepted into the final poll.



Finals must be posted in the finals thread before the deadline.

This has to be a creature, but humans can be with the creature. Humanoid creatures are allowed.

At least 3/4 of the creature must be visible.

Only ONE submission per person in the finals thread.

No fanart. We want to see your original, unique interpretations!

Voting will be held for 5 days after the deadline.

In an event of a tiebreaker, a winner will be chosen through a randomized name picker.


Deadline is Thursday, September 21st @ UTC: 23:59