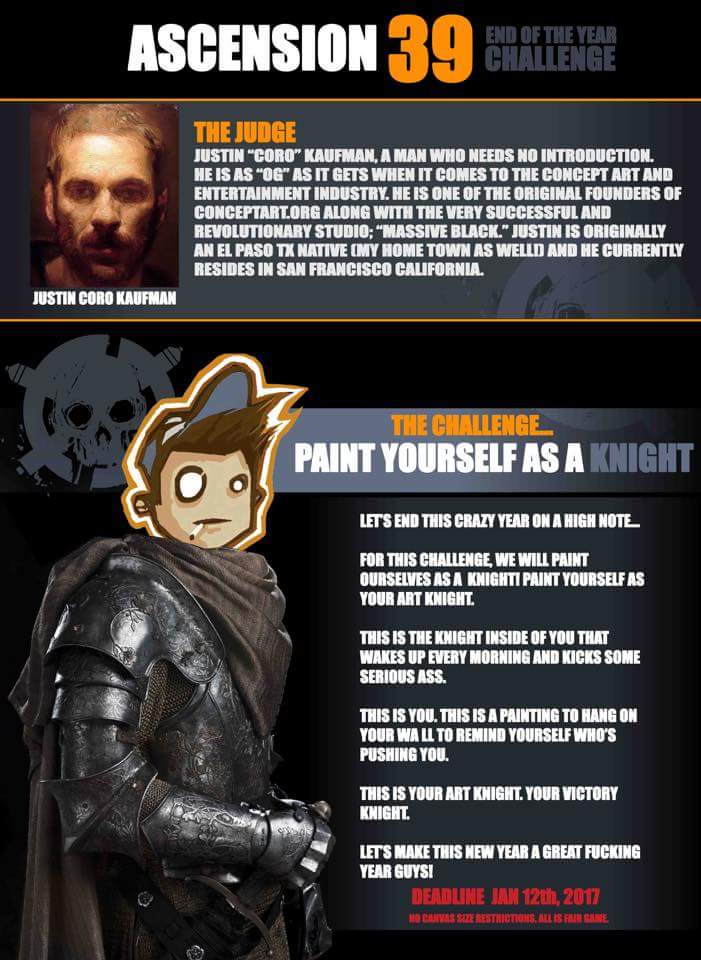 Hey guys, there's an awesome opportunuty for character-focused people here, 
a Draw or Die group initiative with Justin "Coro" Kaufman as a judge.
DEADLINE
JAN 15TH 2017
THE JUDGE
JUSTIN "CORO" KAUFFMAN, A MAN WHO NEEDS NO INTRODUCTION. 
Note: I still decided to attach a  
link to his website
:)
HE IS AS "OG" AS IT GETS WHEN IT COMES TO THE CONCEPT ART AND ENTERTAINMENT INDUSTRY.
HE IS ONE OF THE ORIGINAL FOUNDERS OF CONCEPTART. ORG ALONG WITH THE VERY SUCCESSFUL AND REVOLUTIONARY STUDIO; "MASSIVE BLACK."
JUSTIN IS ORIGINALLY AN EL PASO TX NATIVE (MY HOME TOWN AS WELL!) AND HE CURRENTLY RESIDES IN SAN FRANCISCO CALIFORNIA.
THE CHALLENGE

LET'S END THIS CRAZY YEAR ON A HIGH NOTE… FOR THIS CHALLENGE, WE WILL PAINT OURSELVES AS A KNIGHT! PAINT YOURSELF AS YOUR ART KNIGHT.
THIS IS THE KNIGHT INSIDE OF YOU THAT WAKES UP EVERY MORNING AND KICKS SOME SERIOUS ASS. THIS IS YOU. 
THIS IS A PAINTING TO HANG ON YOUR WALL TO REMIND YOURSELF WHO'S PUSHING YOU.
THIS IS YOUR ART KNIGHT. YOUR VICTORY KNIGHT.
LET'S MAKE THIS NEW YEAR A GREAT FUCKING YEAR GUYS!
More info on DoD Facebook page 
https://m.facebook.com/photo.php?fbid=13...&source=57
If several people are going to participate, we might create a study group what do you think?
---