@DQ_Nick: Thanks for visiting again dude - I'll make sure I keep the virtual coffee and biscuits out for you :).  Yeah good spot with the torsos - I will watch out for that - thanks dude!
@JyonnyNovice:  Hey help yourself to a virtual brew and a biscuit dude!  Yeah I'm enjoying the traditional stuff and will continue it :).  A roundabout adding layers?  That sounds like a great way of thinking about studies - awesome!  Thanks for sharing the benefit of your experiences Jyonny :).
Talking of frustration - I'm pretty frustrated with my gestures tonight - the proportions of the one on the right is really off - I think I'm trying to do too much construction and not enough copying!
(I'm also itching to get onto the Peter Han stuff as well and couldn't help trying a few boxes and things).
And here I've started a drawing from reference where I've tried to copy more accurately.  I'm going to see if I can guess the vanishing points on this to practice perspective.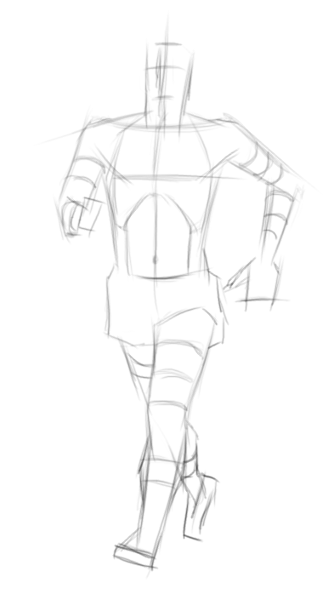 ---
"Today, give a stranger one of your smiles. It might be the only sunshine he sees all day."
 -- H. Jackson Brown Jr.
CD Sketchbook