@Fedodika:  Thanks for the feedback mate - I'll pay closer attention to how old I make him look - he's supposed to be a teenager - maybe around 15/16 years old, hopefully I can bring that across with a bit more rendering.
@Amit: Very useful points dude, I had always been scared of using centralised comps and have been a bit of a slave to the Rule Of Thirds but will try to step out of my comfort zone a bit more and consider centralised comps on the next piece.  Great points on the narrative aspect as well, something for me to add to my list to improve on for the next piece (time is tight so I will have to just press on and do my best with what I have on this one - really appreciate the feedback though - many thanks).
@Darktiste: This project is a collaboration between myself and an author friend of mine.  He will be doing the lettering so I just need to leave space for him to add the words.  My remit is to produce a series of cover illustrations for a collection of short stories.  It is not a professional contract where I will be payed a set amount - I will only get payed if the book sells.
There are 8 short stories and I have to do a cover for each.  The thing is, I am about 2 months behind schedule so am prioritising speed over quality at the moment.  Having said that I am still trying to follow an illustration process and trying to produce work that is not absolute rubbish.
Here's some more progress: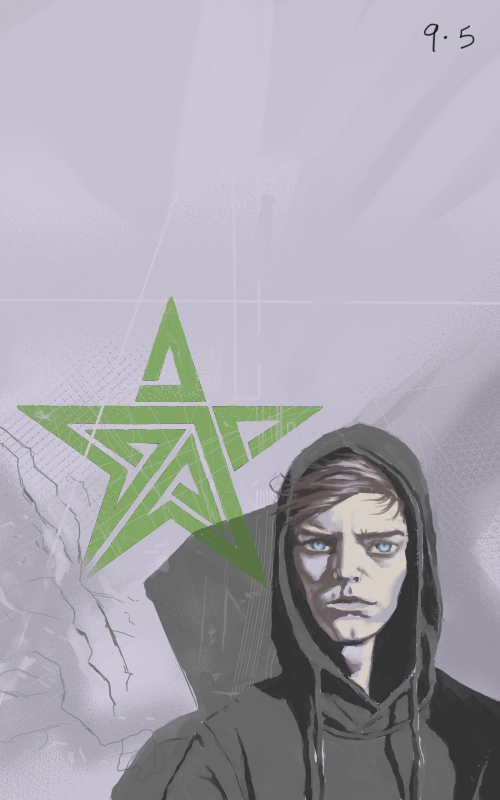 I think I need to push the dark values a bit darker on his face.
---
"Today, give a stranger one of your smiles. It might be the only sunshine he sees all day."
 -- H. Jackson Brown Jr.
CD Sketchbook