@Fedodika:  Spot on crit. with the edges dude, appreciate it :).  I took that on board and did a bit more smudging in this next piece.
@Roanna:  Thanks for stopping by :).  Yeah always good to have my methods questioned, it makes me have to think hard about my goals again.  So I have two objectives for doing so many studies of the same ref. over and over and they are:
1. To internalize the reference into my Visual Library.  Having to study a reference so many times will hopefully mean that I record as many details as possible into my mind so that I can draw upon them when I am inventing an image.
2. To continually refine my painting process.  It is really easy to see the difference each time I tweak my process when I am using the same reference over and over.
I got this idea from reading The Art Of Learning by Josh Waitzkin.  He has a chapter called "Making Smaller Circles" where he argues that a deep understanding of what may well be a basic set of techniques will beat a broad but shallow repertoire of techniques.  
Also, thank you Roanna for the reminder to remember to think in planes, I've been so focused on rythmns and shapes that I forgot to think in 3D.
Anyway here is my second study of the above De La Torre painting: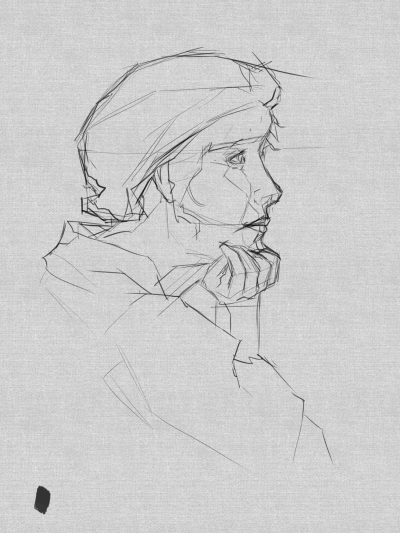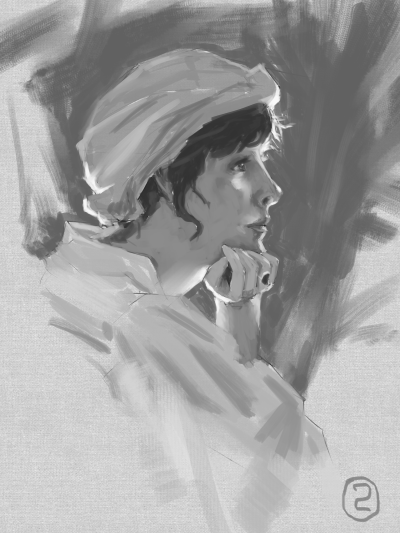 ---
"Today, give a stranger one of your smiles. It might be the only sunshine he sees all day."
 -- H. Jackson Brown Jr.
CD Sketchbook