@Fedo: You're right dude, even my corrections still had some errors, I can see that his upper back is wrong still where I think it is the teres muscles and latissimus muscle that is peaking out from behind his deltoid and tricep.
@Baldgate:  Thank you for the kind words friend :).  Yeah I can see that you are right about the colours, more saturation I tihnk.  No, I did not invert colour temperature between light and dark but now that you have given me that tip I will try that in my next painting - thanks :).
@Darktiste:  Good spot - no, I was not intentionally idealising - I'll stay more alert to that - thanks dude.
OK I've been saying to myself that I should invent more as doing so is good for highlighting weaknesses so I forced myself to sit down and invent a figure sketch without ref. tonight.  Sure enough, I found some weaknesses to focus on, and please feel free to point out any others - I'd appreciate it :).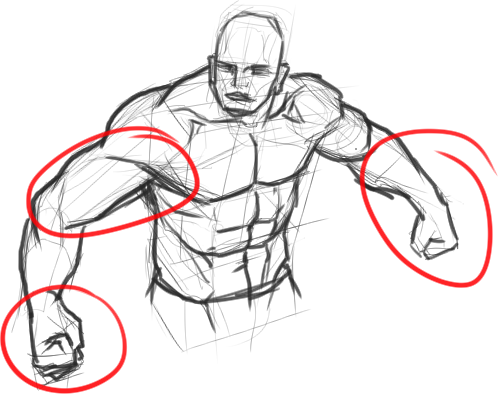 ---
"Today, give a stranger one of your smiles. It might be the only sunshine he sees all day."
 -- H. Jackson Brown Jr.
CD Sketchbook