@Fedodika:  Thanks for taking the time mate :).  Yeah I can see why you'd say my stuff is so stiff, I've had this thing about drawing with straight lines for a while now after reading this article:
https://fineartviews.com/blog/34952/simp...ed-objects
I love this approach as it forces me to make definite decisions about what each line is doing and helps me with accuracy. I guess it can result in stiffness though, I will see f I can loosen up, I'll definitely check out this Karl Grass guy though, thanks for the info.
@Riley:  Heheh Marvel fan girl hey? Then you're cool in my book :). Thanks, my gestures are learned from Michael Hampton, I actually copy some of his gestures first then go on and work from actual figure refs. Check out his blog:
http://figuredrawingdotinfo.blogspot.com/?m=1
@Shikasuru:  Thank you, yep Hugh Jackman's Wolverine is cool, good choice mate!  And you're right, he's Marvel :).
Did a painting study of Thor: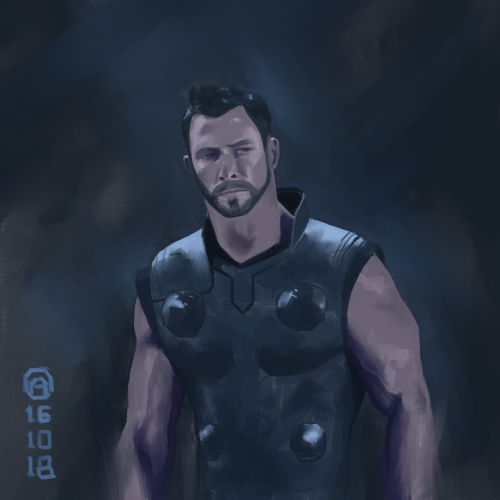 ---
"Today, give a stranger one of your smiles. It might be the only sunshine he sees all day."
 -- H. Jackson Brown Jr.
CD Sketchbook