@Pubic Enemy:  Yeah I had the values all out of whack on his thumb area and never got around to fixing it properly - laziness on my part.  Also I've heard loads about Hogarth but never got around to studying him to be honest but I might have a search around see if I can find his stuff on perspective - thanks for the feedback :).
@Rotohail:  I feel you're right on the money with the story-boarding.  Although I have been writing everyday in my notebook, I haven't done any storyboarding for a loooong time and I feel that this is something I should start right away - great catch dude - thank you so much.  I do indeed have Framed-Ink - an awesome book for composing comics.  Also, I started off wanting to produce a comic digitally, but along the way I found that I love the process of making traditional art and that changed my goals a bit.  However - I still may make my comic digitally - purely for efficiency.
@Leysan:  Yeah I once borrowed that book from my brother but I gave it back to him as it was one of his favourite books. 
Finished off that skateboarding piece - my initial values were way off so I had to adjust them wildly.  I also went back to using some of my cheaper artificial brushes and found that they allowed me to be a lot more accurate with my mark making. 
Also, I'm still playing about with scenes in perspective.  In this one I was messing about with relative scale trying to make one guy look a lot bigger than the other. I'm finding it a really useful exercise as I had to solve a few perspective puzzles in this one that will help me going forward.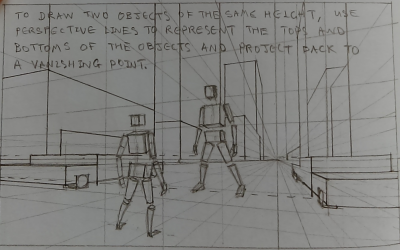 ---
"Today, give a stranger one of your smiles. It might be the only sunshine he sees all day."
 -- H. Jackson Brown Jr.
CD Sketchbook