@Darktiste:  You mean the light on her beanie hat? Yeah I understand you but it's not reflected, it is coming from behind her towards the viewer - rim lighting.  You ever seen paintings by Michael Malm?  He is a master at rim lighting:
http://www.mikemalm.com/
@Pubic Enemy:  Thanks for the opinion dude, I think I will go with the lighter dungaree dress :).  I keep changing my mind on the medium, I was going to do it traditionally in acrylics but my clients are after a comic book styling with visible linework and I find it easier to do that digitally by just having the linework on a separate layer and painting on the layer beneath.
@sgavrilles:  Thanks for the feedback man - yeah my lines and shapes are bit wobbly on this - I was trying to emulate a traditional process with linework added back in after the painting had been done - not very successful :).
@Rotohail:  Very interesting approach - I feel like I coming round to where you started now - drawing something from imagination over and over again until I get it right - although I do use reference to nudge me in the right direction now.  Good call with the value of the rim light on the hat - I will probably reduce the value a bit on the final piece - thanks man.
@Fedodika:  Heheh fair question ... it's supposed to be a piece of Christian art where the girl is in a state of adoration for God.
@_spec:  Thanks for dropping by - I think it is good to do some traditional painting too - for me it has taught me patience as things take so much longer when you're working traditionally and mixing the paint by hand.  I also like the look of traditional painting even when I am working digitally so I thought what better way to achieve this than to learn to paint traditionally and understand the process involved.
So I haven't been too productive recently in terms of art but have at least managed to keep up some daily drills by using the Mini Habits technique (using stupidly small tasks that are almost impossible to fail at).  One thing I have found is that these drills have really pushed me in terms of invention - one of my big goals at the minute is to get better at drawing from imagination.
Here are some perspective drills - I probably only drew 3 or 4 lines a day on these: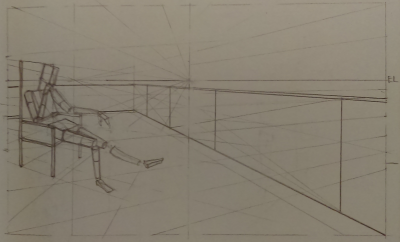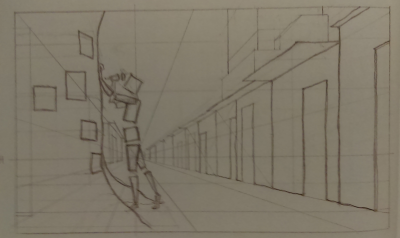 And after some feedback a while back from the amazing Rotohail about doing more storyboards I built a Mini Habit around that and did some storyboard drills: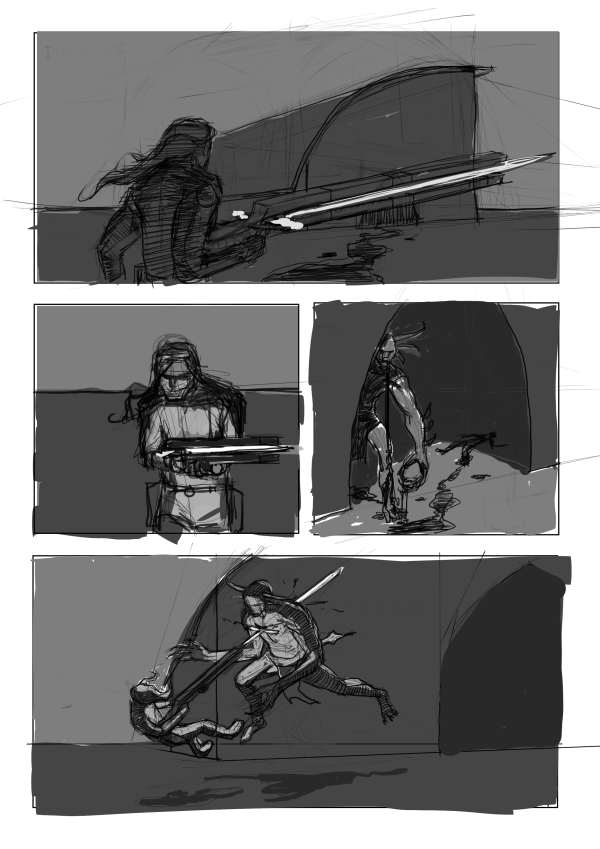 ---
"Today, give a stranger one of your smiles. It might be the only sunshine he sees all day."
 -- H. Jackson Brown Jr.
CD Sketchbook